The latest in a series of updates from Google, the Google Local Pigeon update, affects Google Local Listings. In case you don't understand what Google Local Listings are, here is a screenshot of one of our clients Blue Willow Bed and Breakfast as they show up in the #1 position for both Google Local Listings and organic Google ranking. Most of our sites have seen positive results from the new Google Pigeon update.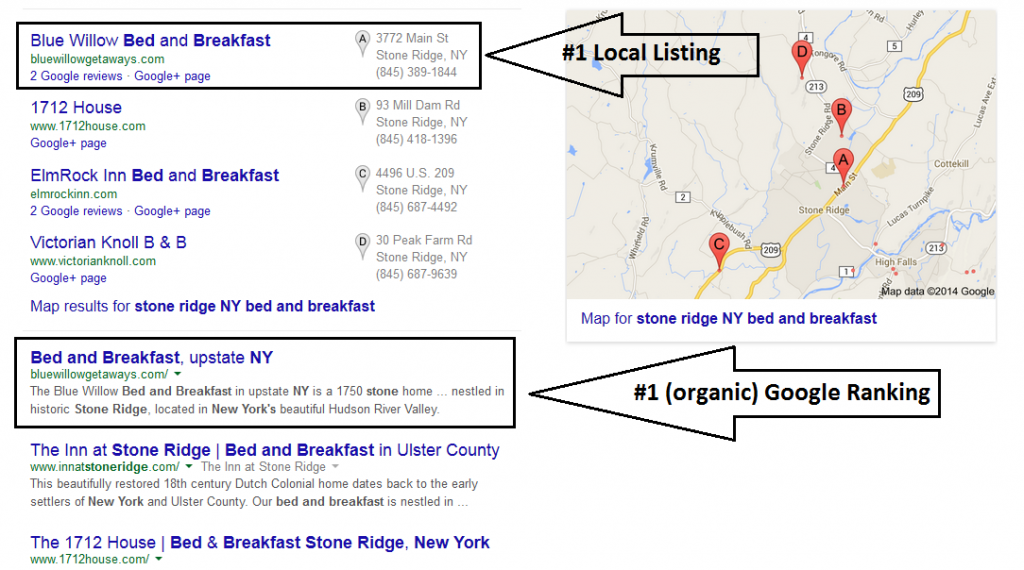 One of the changes we see with the new Pigeon algorithm is that the number of search results that include a local listing pack has been reduced. According to MOZ Cast, the appearance of Google Local search packs falls from 12.1% of search queries on July 23, 2014 to 3.3% on July 27, 2014.

This shake-up of Google Local Listings is speculated to be a result of more reliance on traditional website ranking factors. And while the Local Listing search result pack has diminished, an increase in local web directories (such as YELP, TRIP ADVISOR, BBB.org) has been seen. It has always been a good idea to be listed on as many quality local directories as you can but now, more than ever, it has become vital to be listed and reviewed well on "authority" sites like Trip Advisor, Yelp and more.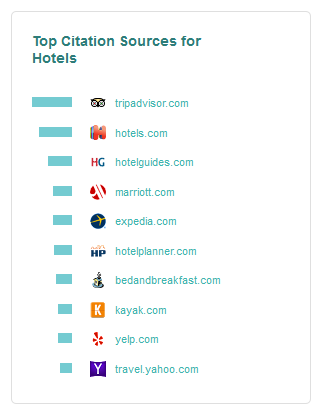 Here is an example of the top Local Citation sites you would want to be listed on if you had a hotel, or bed and breakfast like our client who owns the Blue Willow Bed and Breakfast in upstate NY. An active presence on these sites will help get you to the #1 positions on both Local and organgic Google searches that Blue Willow is enjoying. But do not limit yourself to only these top listings. You should explore, locate and list your site and any and all relevant directories for your business niche. Use proper keyword-loaded descriptions on the site listings. And please make sure your phone number, address and all business information is correct and the same on all sites as you can get penalized for discrepancies. It takes time and effort to get your business listed and reviewed on so manyh websites but as you can see by the results we get for our clients, the effort literally pays off.
Getting to the top of search engines makes your phone and your cash register ring.
Below you can see another one of our clients, Advanced Hardwood Flooring, a hardwood flooring company on Long Island, NY, as they appear in Local Google search results when we search for the keywords "hardwood floor refinishing".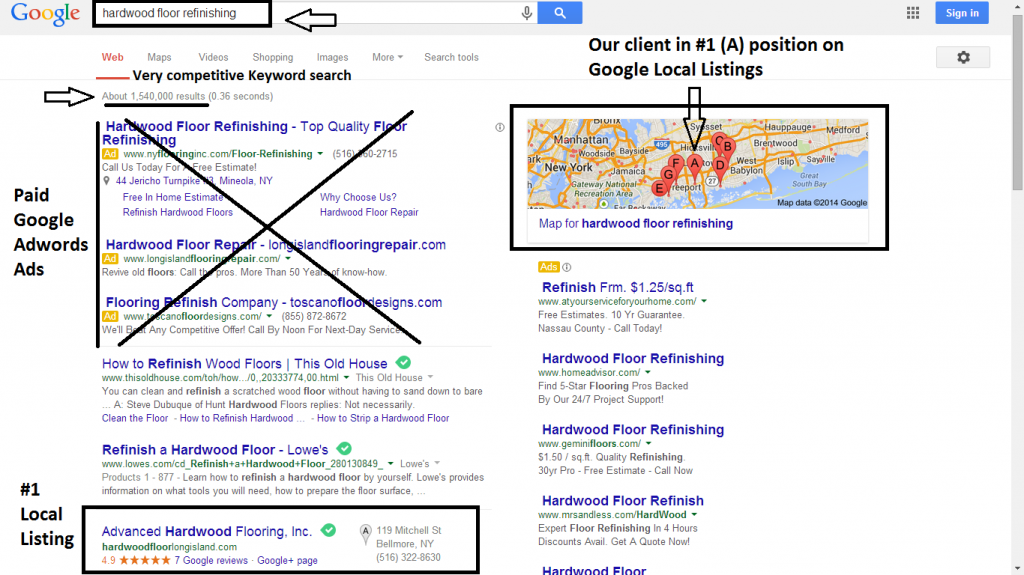 As you can see by the above screenshot of a search engine results page (SERP), our client comes up in the #1 (A) position for the FREE Google LOCAL search results. These kind of search results have a tremendous impact on this company's business. In fact, here is a recent email reply from the owner..."Over the past week the phone calls and emails have been through the roof! This is where I need to be. Traffic like this all year long would make me a rich man. Thanks George! Let's keep it rolling."
Here are some top local directory sites we listed the flooring company on.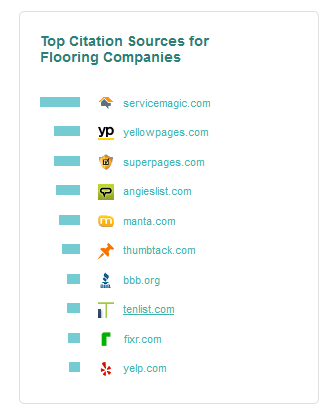 ,
Getting your business listed on local directories is not difficult work but it is time consuming. You can find which Local Listing sites your business should be on by finding your business niche category on the MOZ site section called The Top Local Citations by Category. Most businesses that use a search engine optimization company realize that their time is best spent doing what they do best, which ultimately earns them the most income.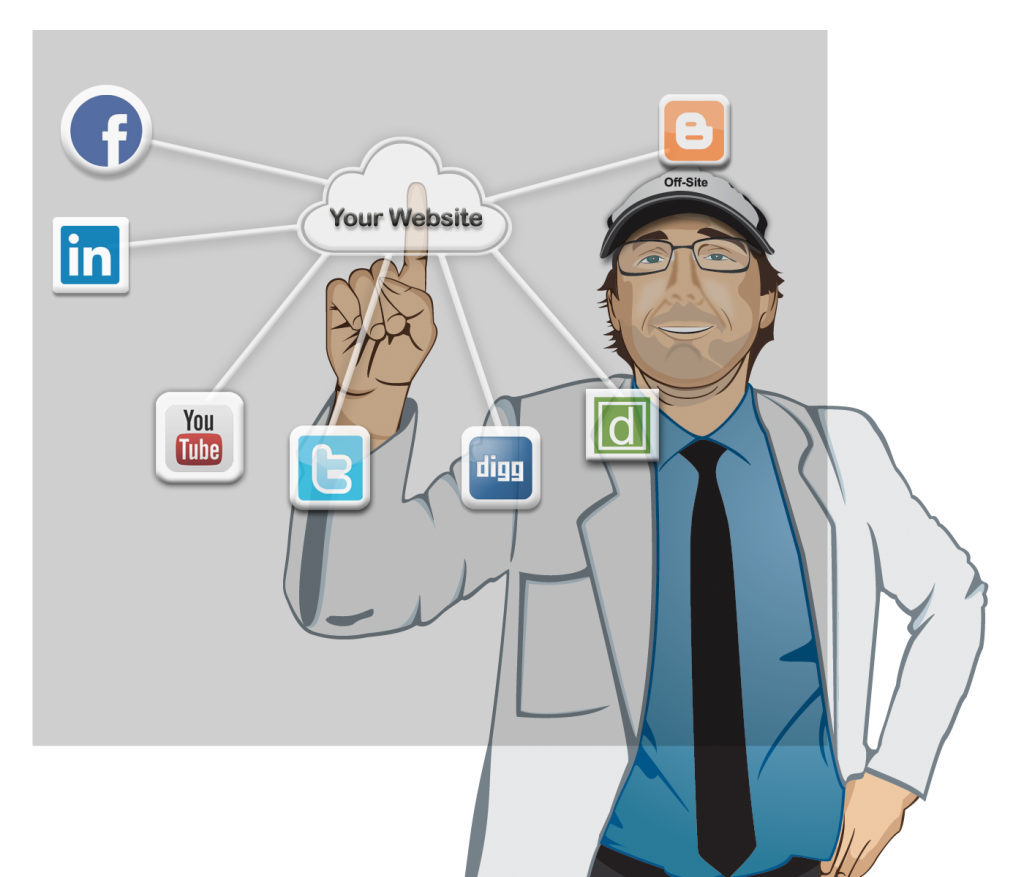 A website can no longer be an island unto itself. Today's search engine algorithms are complex, requiring your website to be extensively linked and involved in a relevant online community of peers. This type of search engine optimization is known as OFF-SITE SEO (as opposed to ON-SITE SEO). We have an expert at On-Site SEO. He is smart, fast, and knows the most relevant directories and social media sites to list your business on, what to post once on there, and what to avoid.
We can help you get ranked high on Local Listings, as well as regular organic listings on Google and all the top search engines. The first thing we would need to do is to analyze your current website and see how well it is optimized for Search Engines. Request your FREE SEO Audit.