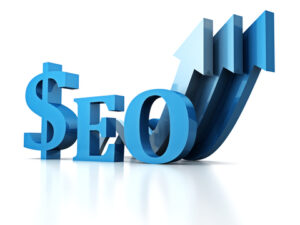 Our search engine optimization (SEO) company is dedicated to moving our client's websites to the top of search engines at a cost-effective price. We promise to provide an extremely high rate of return-on-investment (ROI) when you contract us for our SEO services.
So can we provide cheap SEO for you? Let's take a quick look at some factors that affect the cost of SEO. This article will provide easy, step-by-step instructions, to determine how much it should cost for your business to get to the top of search engines like Google.
1. Pick the keyword phrase that best defines your business.
For example, a business approached us requesting a page one Google listing for "auto transmission parts"
.
2. Next, we will learn the current market value for the search keywords. To do this, we will use a brilliant tool Google keeps in their paid advertising program called Adwords. We don't want to pay Google for anything but we just want to use their tool.
a) Go to this site and sign-up/sign-in: http://www.google.com/adwords
b) Go to TOOLS / KEYWORD PLANNER. This is where Google provides information about the cost of keywords and search volume traffic.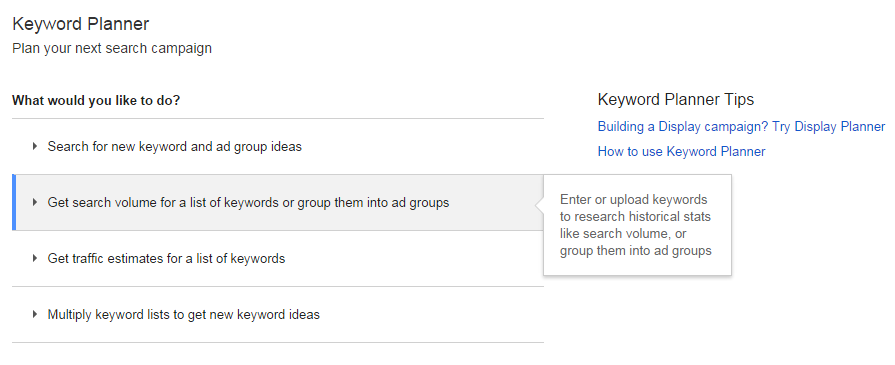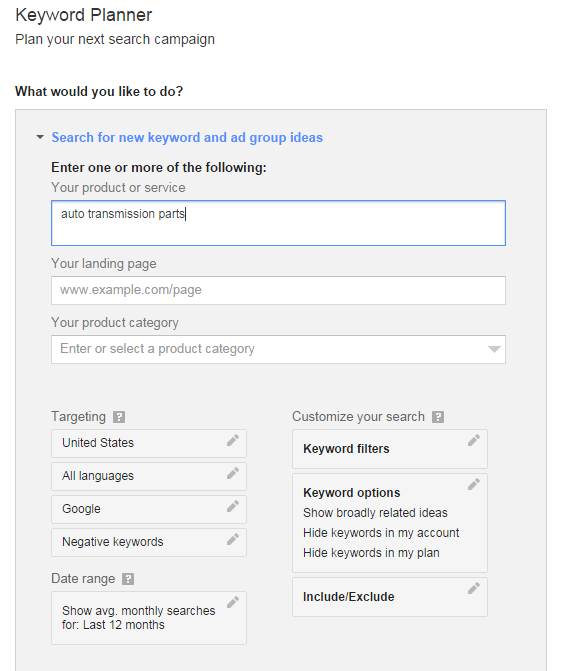 Once you select your keywords, you can learn how many times people search for them and how much Google suggests they are worth. In the example below you can see there are about 170 searches per month for "auto transmission parts" at a cost of $3.00 cost-per-click.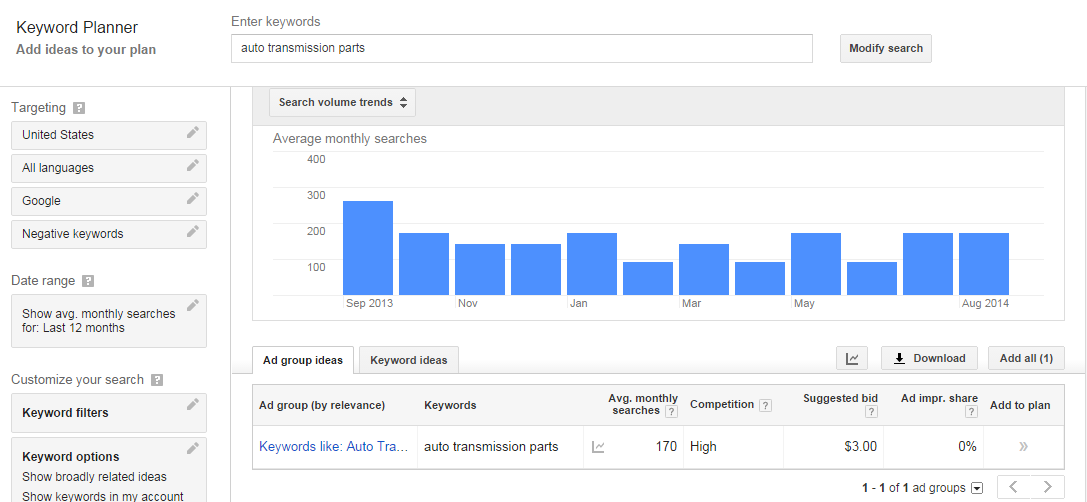 Once you have this valuable information, we can start doing some simple math. If it costs $3.00 for a keyword and that keyword gets searched 170 times per month, then it would cost us about $510 a month to be at the top of Google in this example.
$510 a month to be at top of Google for this one keyword search.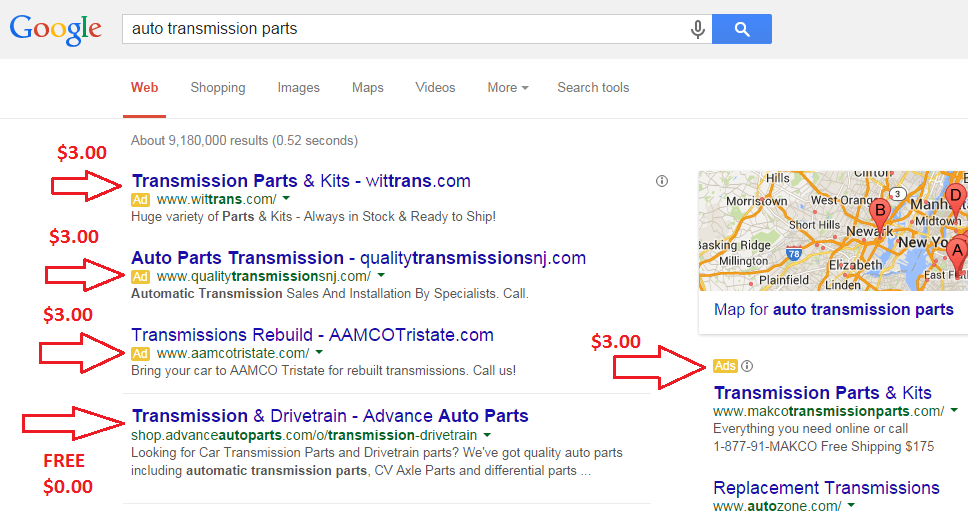 Since people use all kinds of keyword phrases to search on the internet, we will want to be on top of search engines for more than one keyword phrase. Google's Keyword Planner Tool is terrific at suggesting other viable keywords. In this example, a company selling "auto transmission parts" would also want to capitalize on people searching for the following keywords...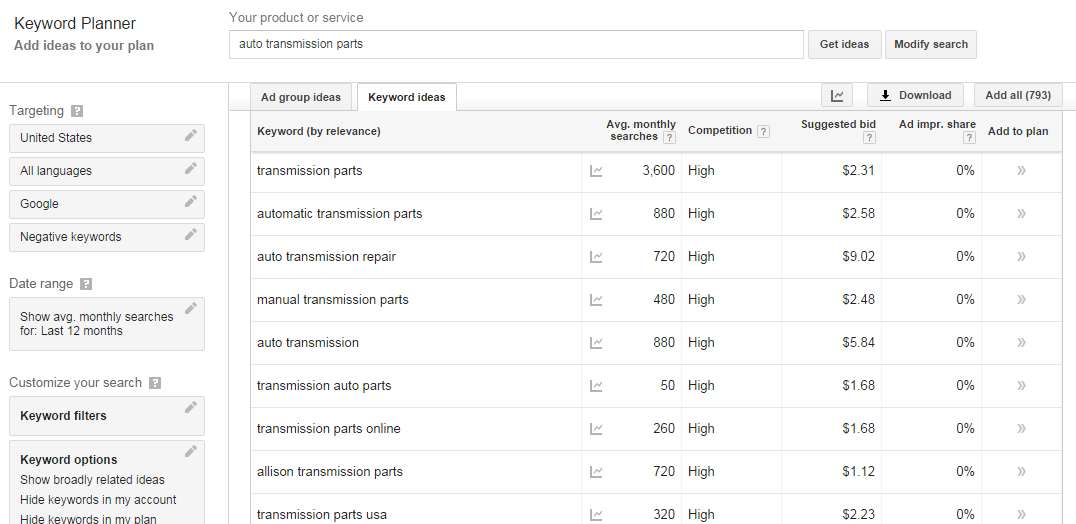 Now start adding up the cost of all the keywords that will drive business to your website and you will get a total budget. Most small businesses that use Google Adwords paid advertising have budgets of several thousand dollars a month. While this might seem expensive, if the company's COST OF CUSTOMER ACQUISITION (CoCA) is healthy, then Google's pay-per-click Adwords program is a smart investment.
Are you starting to understand how Google is a $400 billion dollar company?
In 2014 Google surpassed Exxon to become the 2nd largest company in the United States. Most people do not realize it but Google is in the auction business. In the screenshot above, notice the column labeled "suggested bid". The auction process creates a supply and demand situation which results in fair "market value".
So how much are your keywords worth?
Only when you understand what it costs to pay your way to the top of Google (using Adwords program) can you understand the value of hiring an SEO company. If you want business fast, sure, using Google Adwords is a good idea. But if you are a smart business owner who is in for the long-term, you will want to be on top of search engines organically, which simply means FREE. Why should you pay Google each time someone clicks to your website unless you really have to?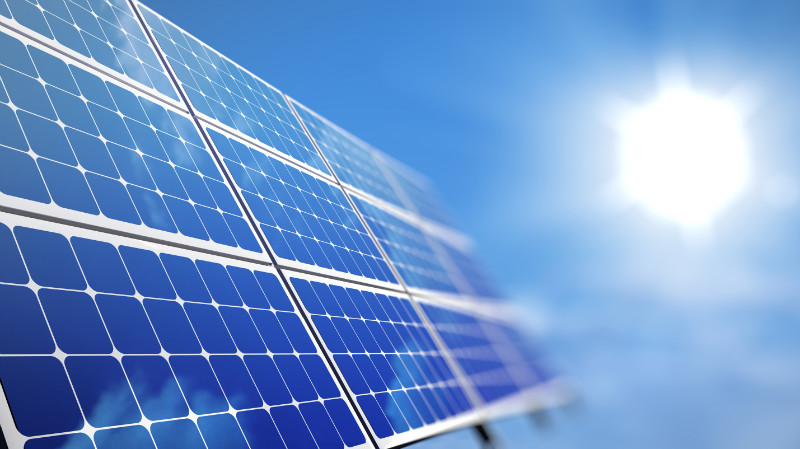 What we do as SEO experts is to get you organic, non-paid (free) rankings on search engines, so you never have to pay when someone clicks to your website. And we do this for dozens of keyword search combinations. Click after click after click.
Okay, I get the value of SEO. What's the catch?
If it were easy, everyone would be at the top of search engines.
Sometimes I come across business owners expecting to get to the top of search engines for $200 and sometimes we can do this. However, don't be naive. The more valuable your business niche, the more competitive it will be to outsmart your competitors. Only if you understand your cost of customer acquisition will you be able to intelligently calculate the Return on Investment (ROI) of an SEO Plan. Just as it costs money upfront for alternative energy infrastructure such as solar panels or wind generators, there are hard costs involved in setting up your SEO infrastructure on the internet.
There are many factors involved in getting to the top of search engines and they require time and a budget to pay for the work hours. We can't just flick a switch and "optimize" your website.
After following the instructions in the article, you should be able to know and understand how much it will cost if you have to pay Google to be on top of their search results. Now compare that to our SEO PACKAGE PLANS and PRICES and see how cost-effective our services are.
If you want to learn more about what we do to earn our SEO Fees, read the next blog article in this series. Of course, if you want really cheap SEO costs, then you can do-it-yourself by following the informative SEO instructions in this blog.