Are you looking to improve your search engine ranking? An SEO Audit is the first step to take. It provides a detailed analysis test of your website and the factors that are affecting its ranking on search engines.
The smartest investment you'll ever make in your website is my SEO website Audit...
Audit My Site
Read the information below if you would like to see what our SEO Audit Report will reveal about your website...
1. The first area we test for on our SEO Audit is basic DOMAIN STATISTICS such as Google Page Rank, rank on Alexa, Compete, DMOZ and Yahoo Directory listing status. Here is a sample screenshot from an seo audit we did for a well-established Opthalmologist office in NYC. The website has been online for almost 12 years which is great because search engines favor older, more establisehd sites. Overall, their test results are good but we did learn they did not have a DMOZ or Yahoo listing.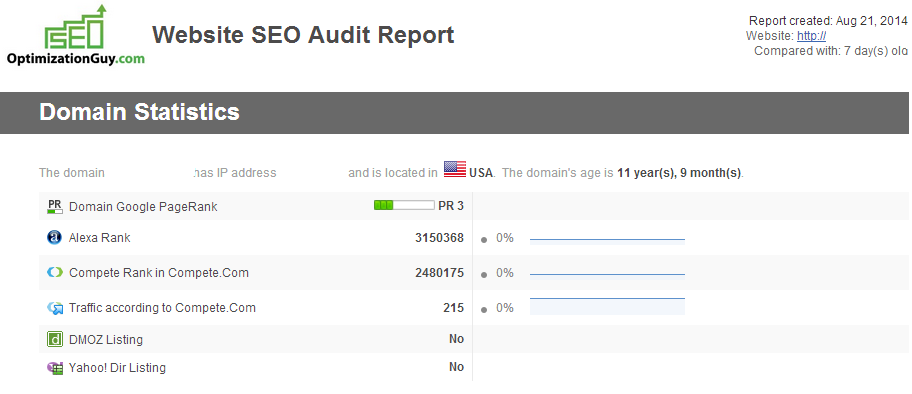 Let's compare that with the seo audit of a website for a Chicago Neurologist. The site is over 2 years old and virtually invisible to some very important website ranking authorities. If Google, Alexa, Compete, DMOZ and Yahoo have no data on your site after two years it indicates serious problems.

2. Another factor we check for on our SEO Audit is your site's CRAWL AVAILABILITY which tells us how well search engine robots are reading your site. In the website example below you will see 0 (zero!) pages are good to crawl with 61.5% pages redirect to other pages and 38.5% of the pages had client errors. If search bots cannot crawl your site you will not be listed, let alone ranked well.

What is especially troubling about the seo audit report above is that the site belongs to a Web Designer in Portland, Oregon who advertises "a complete line" of web development services. Beware of these web designers who are more "artists" than businessmen. Most of them pay little attention to the fundamentals of SEO and are more concerned with the aesthetics of the website.
The CRAWL data in the next screenshot below is from the Neurologist's seo audit. As you can see, 92.5% of the pages are good to crawl with 1 client error which can easily be fixed. In this section, his site looks good.

3. Next we examine a website's CONTENT and STRUCTURE. This analyzes the search engine crawl statistics for some basic, building-block foundation work involved in SEO. If our site audit reveals problems with Content and Structure it indicates that whomever built the site did not know, understand (or care!) about Search Engine Optimization. While we refer to this area as "basic" SEO, it covers extremely important factors that affects your site's ability to improve its search engine rankings.
Examine the seo audit data below. Guess what this website offers? They are a Dallas Web Design and Internet Marketing firm. Scary.

What an SEO disaster! I should add that the reason I have website seo audit reports on other web development companies is that every once in a while I learn what company is bidding against me for the same job, so I check them out. I am relieved to say that this web development company did not get the job over our team.
How can a web development company have such a poorly optimized website? Maybe the old saying applies? The one about the shoemaker who has kids with holes in their shoes? In any case, it is frightening how many web design companies I see that do not practice good SEO techniques. But let's get back to reviewing the data in this part of their seo audit. A very common mistake is demostrated here. We call it LAZY SEO - Duplicate title tags and meta descriptions.
Let's take a look at the Opthalmologist website's SEO Content and Structure (below). Overall, this part of the site is in good condition except for the duplicate data that the seo audit reveals.

Duplicate data is a real no-no when it comes to SEO. Each webpage should be specifically targeted for its own set of keywords. Each title tag, meta description, header tag and body content should build upon these keywords. Simply copying and pasting "canned" keyword data is LAZY SEO and will not produce good results. Duplication like this may even get your website downgraded a few notches. Each page of your website should be unique and razor-sharp focused on what keywords it wants to rank well for.
4. PROGRAMMING CODE . The next area we analyze in our SEO site audit is how well the code is written on the website. Many people think that search engine optimization is all about keywords, but a website with code errors can hurt it's ranking just as much as any other factor. Remember, search engine robots crawl webpages. If there are errors that disrupt or inhibit the robots ability to read the site it will affect the indexing. Look at some samples of the HTML and CSS Code validation for the seo site audit reports below. First we have the Opthalmologist's website. As you can see, the site has thousands of errors that need to be fixed.

Next let's look at the Neurologist's site audit. Whoever programmed this site seems to have been adept at CSS as its code is error free. However, every single page of HTML code contains errors.

In the site audit example below, we examine the Dallas Web Development company. While their code looks better than the others, they still have plenty of errors that need to be cleaned up.

Last, let's look at what the seo audit revealed about the Portland Web Designer's code. 100% of his site's code contains errors. Frightening! So, please keep this in mind when you get a discounted low price on a website. As always, you get what you pay for. The worst part about bad code is most people never know they have it because they can't read code. What they often see is a perfectly nice looking "skin" on their site without ever realizing the problems lurking below the surface.

5. LINKS. Our SEO Audit also provides and analysis of how many links a website has (internal and external) and if any of these links are valid or broken. As we all know, links are vital for good SEO ranking. Not having enough links can inhibit your chances of getting ranked high on search engines. Broken links can have a negative effect on your site's ranking on search engines.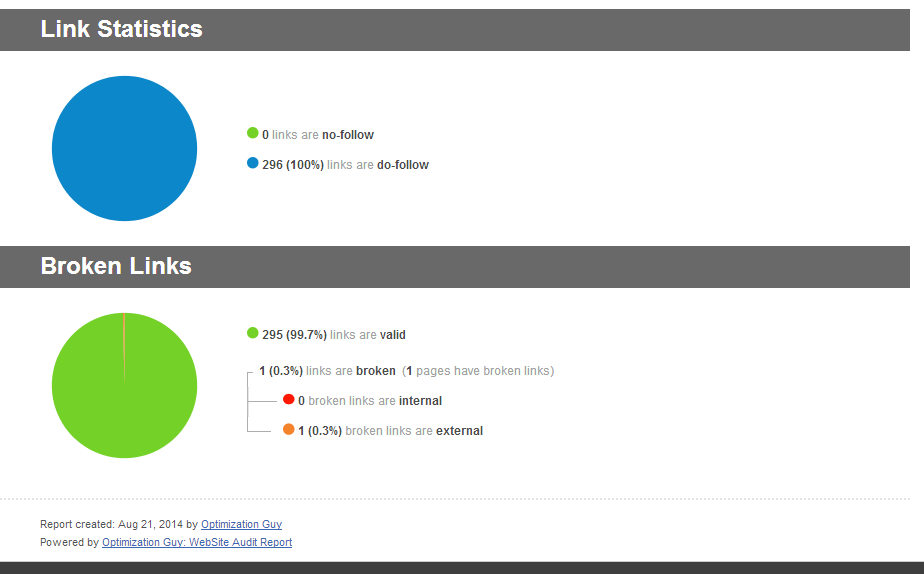 The information revealed in a good website SEO audit is vital to getting and keeping a website on top of search engines.
The smartest investment you'll ever make in your website is my SEO website Audit...
Audit My Site
A website SEO Audit is the first step in improving search engine ranking. Our Team at Optimization Guy are professional search engine optimization consultants with years of solid experience getting websites to the top of search engines. We will help you understand your current site's SEO problems, provide seo advice, and help lead the way to getting your site to the top of search results in your business niche.